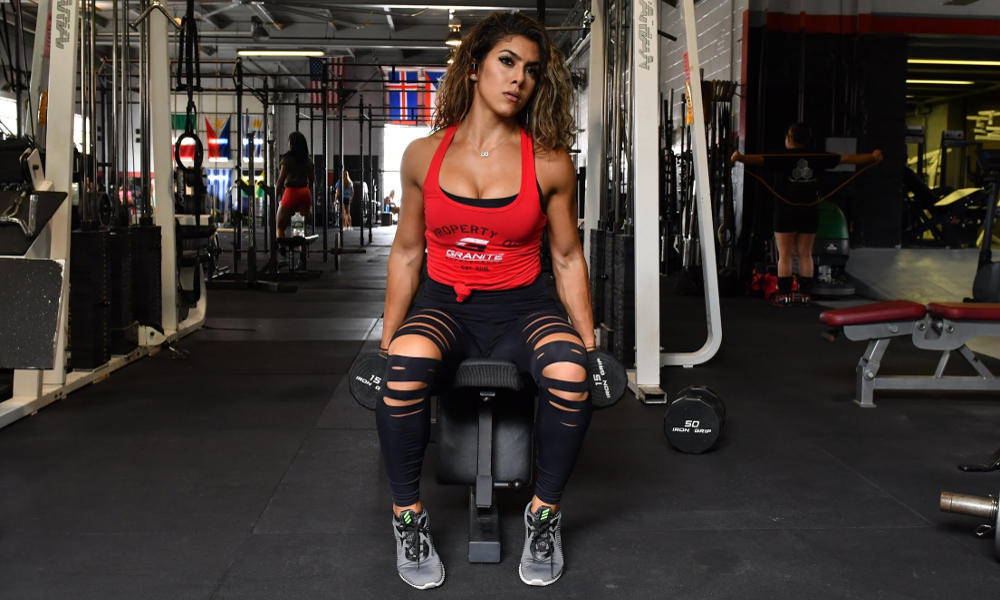 Name: Heba Ali
Height: 5'6
Weight: 150 all year round
Hometown: Wayne, NJ
Current Location: Wayne, NJ
Occupation: Hybrid Trainer, CEO of Evolve Nation
Contact: info@evolve-nation.com 
Website: http://evolve-nation.com/ 
Instagram: @evolve.nation
Facebook: https://www.facebook.com/evolvenation
Supplement routine 
Pre-workout: Keto-Factor + Arc-Reactor or Speed Force
Intra workout: Aminos, Recovery Factor…or both
Favorite Cheat Food 
Bagels..but I eat one everyday sooo…Pizza, hands down
Not that picky either, but my pizza HAS to be well done
Favorite Diet Food 
Teriyaki shrimp or chicken, corn, broccoli, toasted cashews, shredded carrots, brown rice and one egg. (Tastes just like thai food and tops chipotle bowls)
Favorite Exercise in Gym 
Power Cleans, Squats, Bench Press
What's in your gym bag? 
IR Wrist Wraps, IR Performance Sleeves, chalk, extra headphones, Pre-workout, BCAA's, gum, protein bar, resistance bands, lifters and an iPhone charger.
What do you like to do outside of the gym? 
When I'm not training I enjoy:
Belly Dancing, Reading, Researching Psychology, Cooking, Watching Documentaries or Ted Talks
Biggest gym pet peeve 
STARRING.
Tell us a little bit about yourself, your background, and how you came about in the industry 
Being that I am Jordanian (middle eastern decent) I was brought up in a very conservative home, so I never explored sports at a younger age. I began where most people start, wanting to improve my physical shape and not having the proper knowledge behind achieving this. I began studying Human Anatomy, Physiology and Nutrition during high school which is when I completed my NASM certification. I joined the track team Junior year, so I had a lot to prove to the coach, my team and most importantly myself. I trained religiously every day in and out of practice and within 2 seasons I was competing at a national level. Those two years of competing taught me so much about myself. I saw resilience, work-ethic, strength, determination and mental strength I never knew I had. My mission till this day is to inspire every person to push their limits physically and discover their mental strength and to NEVER give up when they face struggle. In the start of my track, I came in every race last place but as hard as it was to endure the humiliation I did not allow it to break me. I made no excuses and I prevailed. This strong attitude and disciplined character I developed has not only advanced me in sports/fitness but translated into every aspect of my life. This is what I teach my clients and every person aspiring to grow: without struggle there is no success. This message isn't hard for me to translate online – I'm not the average trainer, "fitness model" you see online, I don't sell bullshit teas, butt programs or train in under wear to gain attraction online. I'm a real performance based athlete and I've made my mark by showing my resilience, work-ethic and strength through each of my workouts and this realness that social media is missing is what allowed me to break and evolve in the fitness industry.